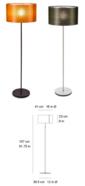 David 16 Floor - 5166 Details

DAVID 16 FLOOR - 5166
Details:
An exciting collection of architectural lighting, designed by Douglas Varey.
Imago is a revolutionary new material from Knoll Textiles which marries the best qualities of resin and fabric. Hardware is clear anodized aluminum. Shade structure is dull silver. Shade is 1/16" Imago from Knoll Textiles. Design by Douglas Varey.



Model Options

Knoll Imago Series:

David 16 Pendant - 5161
David 16 Table - 5165
David 16 Ceiling - 5163
David 16 Rigid Drop - 5165



About Knoll Imago:

Resolute Light with Imago textiles are a collection of architectural light fixtures using Knoll textiles for the shade. The Resolute Imago lighting collection includes the Box lamps a series of wall lights with the frame finished in anodized aluminum or bronze. The David light series features round lamp shades and are available in ceiling, pendants, wall and floor models. The Resolute Imago series provide architectural lighting solutions for the contract and residential market.
David 16 Floor - 5166 is Made in USA

View the Knoll Imago Collection
KNOLL IMAGO SPECS:


David 16 Floor
Model: 5166
Finish: Anodized Alu
Light: 1 x 100 Watt IN
with dimmer
View Imago Materials



DAVID 16 FLOOR - 5166
RESOURCES: